Bumblebee is not a Camaro. And that Spam needs more frying.
In the first of (hopefully) many non-cookie related posts here on the Rogue Bakery blog, I will tell you a story of pure excitement…killed by lackluster product, resulting in pure disappointment. Now, I'm no professional food critic, nor do I even consider myself an amateur food critic. I'm not a foodie blogger, or even much of a foodie [I present exhibit A as evidence.] But I do know what I like, and I do know when something isn't as good as it could be. I make cookies. And those cookies better be damn good when I deliver them to someone. To tell you the truth, there are some times when those cookies just plain suck. Maybe Mercury was in retrograde, or there was some weird thing happening with butter that week, who knows? But there have been times [more than you can imagine, or more than I'd like to admit] where I've taken a batch of dough, and sort of shelved it. I usually don't throw it away; many times I bake it for friends who don't really care, or I make myself eat all the cookies from the batch, while telling myself "THIS IS WHAT YOU MADE? THIS SUCKS! EAT ALL OF IT, BECAUSE YOU DESERVE TO EAT EVERYTHING THAT'S NOT GOOD!!! YOU ARE NOTHING!!!" Okay, I don't actually do that, that's kinda psychotic, don't you think? But yeah, stuff happens, things aren't good. And you know, if for some reason, the non-good stuff gets past me, and somehow gets in the hands of you guys, I really would want you to tell me "Hey, this Milk Chocolate Chunk cookie? It's not that good. I think you mistakenly put raisins in it…and aquarium gravel." [That's also never happened. Just an example. I don't even buy raisins.]

So…I went to Aloha Hawaiian BBQ & Asian Bistro once before, and it was…okay. I think I got one of the Hawaiian BBQ Beef. Like I said, it was okay. I did order the Spam Musubi, because, come on, it's Spam. In a restaurant. I don't know what it is about Spam that freaks people out. I mean, I'm Asian; eating Spam was required while growing up. When you have Spam and rice served to you when you're three, you either eat it, or you go to bed hungry. So yeah, I have an affinity for the rectangular meat product; it's kind of a comfort food.


A baseball capped Asian man brought out my order, and said "Are you Hawaiian? No one ever orders Spam unless they are Hawaiian." [Aside: to make this a racial thing, how come no one but Asians eats Spam here in the US? I know a lot of white folk who won't touch the stuff. I mean, come on, you white people invented it and brought it over to our countries! This is actually YOUR food, not ours. You don't see Asians saying "You know, I really cannot stand eating noodles of any kind." But I digress…oh, and I'll tell you more about the Spam Musubi further down, in case you were wondering.]


I tell him I'm not Hawaiian, but like Hawaiian food. "Well, come back in August, we're going to start serving Loco Moco!" My eyes immediately lit up. Loco Moco? In landlocked Ohio? [Lake Erie doesn't count] Now, I don't know if you've been to Hawaii, or know what Loco Moco is, but it's delicious. Also, here's the Wikipedia page for it. Again, maybe it's an acquired taste to combine macaroni salad, white rice, beef patties, fried eggs, and gravy in one dish, but damn, it's tasty. So I told the guy I would definitely be back for that. "Tell all your friends, too!" Sure, why not? This could be really good.

It wasn't really good. At all.

I mean, it pains me to say that, because this Asian guy and his family who run the place seem really nice and friendly…but not Hawaiian at all, which may be a problem. I don't know. Anyway, there's some expression about pictures and words or something. Look at this pic of Loco Moco from a quick Google search.


image from inuyaki.com
Now look at the Loco Moco that was placed in front of me.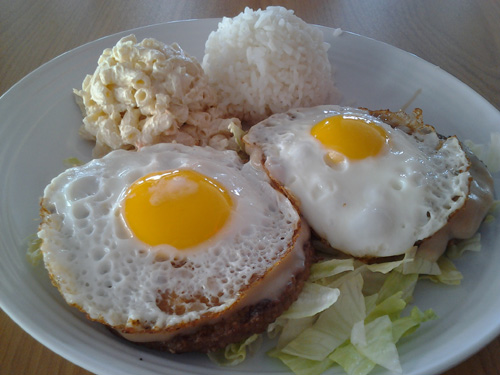 First off, I really don't like the idea of placing any meat on top of chopped up lettuce. Is it to absorb the grease? To make it look pretty? Because we should be eating more leafy greens? I don't know, but restaurants shouldn't do it. Also, the patties are supposed to be on top of the rice [which, incidentally, was scooped and placed in the upper right of my plate.] Second, these hamburger patties were of the "buy a box of 30 frozen patties at Walmart for $10″ variety. Third, the patties weren't even grilled well. They had that sort of grayish exterior, with very little evidence that they were fried for long.

Then there's the gravy. I am a gravy connoisseur. I love gravy of all kinds. I'm not sure what kind of gravy this was that came on my ground beef patties. It was light tan/gray, and fairly gloppy, almost sausage gravy consistency, but with none of the sausage…or flavor. It was just…there. And that brings us to the best parts of this dish: the eggs and the macaroni salad. The macaroni salad is, well, macaroni salad. Nothing special. I liked it, it's exactly what I expected. And these eggs, these were cooked a perfect 'sunny side up'. So, a golf clap goes to the egg fryer. Excellent job.

Oh, and in this pic, you can see the Spam Musubi in the upper left.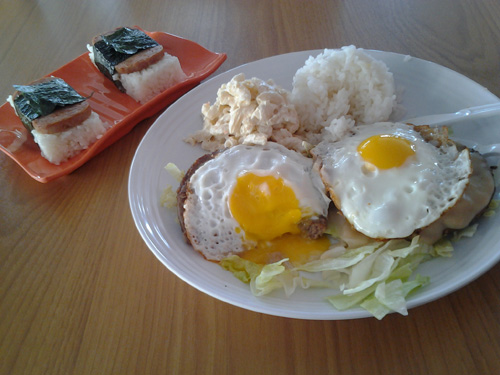 Now, here's the thing: the eggs were fried perfectly, yet the beef patties and the Spam weren't. For those who don't know, Spam tastes pretty damn good when it's fried. And I mean fried. Not just warmed through. You have to put those slices in the pan and fry them until that exterior is nice and crisp, sort of like bacon. Only then will it not feel like you're eating some weird meat gel out of a can. Unfortunately, this Spam Musubi felt like I was eating a slice of meat gel out of a can…placed on some rice, and wrapped in nori.  Which, if i was three, and I was presented with that for dinner, I'd probably eat it. Maybe. Honestly, I think my three year old self would go to bed hungry all because that Spam was not fried enough.

As you know, I bake cookies. And I eat cookies (even the awful batches that don't turn out.) I know what it's like to eat a good cookie, because I've had good cookies that aren't my own. I have this baseline of what a good cookie should taste like. Look at that Google pic of Loco Moco. Even if you never had Loco Moco, you can clearly see in that pic how it should be made, and it can probably give you some clue how it should taste. Now look at what Aloha Hawaiian BBQ is serving as Loco Moco. I wonder, have they had Loco Moco before? Do they know what it is? And even if they didn't, couldn't they just research a bit to find out some details, and then try to replicate that? Just like I'm not a food blogger, I'm also not a restauranteur, so maybe I'm completely off base. I'm just looking at this from my perspective as a physicist/engineer/designer/baker. And I really am trying to find a reason why this dish is just not good. Could it be this is just an interpretation, and the chef is putting his/her own spin on a classic Hawaiian dish? If this is true, does the chef know that his/her own spin really sucks?

Maybe some of you are saying I'm being rather harsh, but as the part of me that makes me eat all the bad cookie dough would say,"EAT IT ALL BECAUSE YOU SUCK! ALSO THIS IS TOUGH LOVE!" It's true. I really really really want to like this place. And I want to go back. But if this is what I'm getting? A dish which I have great memories of eating while in Hawaii…now turned into this? It feels like what Michael Bay did to my childhood heroes: he made them into weird, lame General Motors products that look like they were wrapped in crumpled foil.

So yeah, Aloha Hawaiian BBQ & Asian Bistro. Maybe their General Tso's Chicken is good.
*shruggs*
*EDIT*
I didn't follow what I learned in design whenever we had critiques of our projects. One just can't say "Oh, this stuff sucks!" and not give way to improve. So for that, I apologize.
So, how can Aloha Hawaiian BBQ & Asian Bistro make their Loco Moco better?
BETTER BEEF. Buy some ground chuck, make your own beef patties. Make them thick, and fry them up. Beef isn't that expensive, and you will gain so much from having that in the dish. It's one of the main components. Make it good.
GRAVY. Make your own gravy. Or hell, get a mix. I don't care. But just make sure it's BROWN. None of this weird gray/off-white gravy. Taste the gravy. Does it make you want to put it over rice and nom the whole thing up? Then that's good gravy.
NO LETTUCE. It seems to be the base for every dish there: meat on top of lettuce. Just don't do it. There's no point. It doesn't add anything. No one wants to eat greasy, wilted iceberg lettuce.
ASSEMBLY. I think it should be rice, then patties on top, then gravy, then eggs, with macaroni salad on the side. Maybe another order works? I'm sure. But the key to deliciousness is the eggs/rice/patty/gravy combo. That's the stuff. It's better sloppy.
In regards to the Spam Musubi: FRY YOUR SPAM MORE. Like, really get it crisp on the outside. It's way tastier.
So there you go. Again, this isn't meant to be a "Hey, look at me! I wrote this review to say this sucks! I'm so awesome!" post. I just want a good Loco Moco in Columbus. And hell, there doesn't seem to be any other Hawaiian-esque places around. Yet.