Hi. I don't know if you've ever looked on the "Our Cookies" page of roguebakery.com, but if you haven't, I'll wait while you go look right now. No, really. It's no trouble at all. Just let me know when you're back.
.
.
.
So, you've seen the page. Cool, huh? Anyway, maybe you noticed that at the bottom of the list of cookies is one called the Mascarpone Caramel Walnut.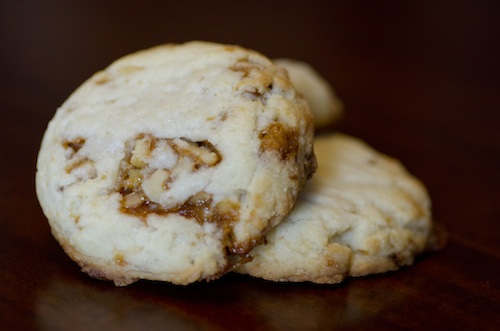 Yeah, he's a strange one. Sometimes he talks in an Italian accent. He was around for a little bit last year, but hasn't really returned. Why? To re-purpose an automotive blog meme, BECAUSE CARAMEL. He's fed up with caramel.
I don't know what the deal is with caramel. She started out all nice and sweet and creamy, and worked great with MCW. But then she got this attitude. I told her, "Hey, you should watch that attitude of yours. You do know what happened to cinnamon and the I'M NOT A SNICKERDOODLE!, right?" I mean, I bet she's talking to cinnamon; I have no proof of this, but cinnamon and caramel could be friends, and just not telling me. I mean, sometimes she's great, and sometimes…she just doesn't cooperate. For instance, one time, she was really sweet and creamy, then the next time, she was kinda dark and chewy. She's just really inconsistent. And so I told her "Hey, you need to shape up and be consistent. People aren't going to want you in their cookie if you're always changing it up." She got kind of upset, but that happens with confections, you know? I'm sure all of you who have confections know this fact. But you know, I think she understands how she is, and what's going on, and I think she genuinely wants to try again. Which is pretty much all I can ask of caramel.
We're going to try a trial run this week: every local cookie order this weekend will get a Mascarpone Caramel Walnut 2-pack. Try them out, tell me how you like it by posting on Facebook or Twitter, or emailing [cookies@roguebakery.com]. After I get your feedback, I'll share it with caramel, and we'll figure out where we go from there. I think it's a step in the right direction. Oh, and you can order at the Rogue Bakery online store.
Another point of interest: You all know about Columbus Alive's Best of Columbus 2012 contest, right? If you don't, it's your chance to vote for your favorite local businesses, restaurants, bars, food, etc. While Rogue Bakery is not on the ballot for any particular category, I would really appreciate it if you would write in Rogue Bakery for the Dining category you see fit on the ballot. For instance, I do see that #32 under Dining is "Best Local Treat", and that's a fine list of bakers there, so if you'd like, write in Rogue Bakery. However, just as I did last year, I am urging you to write in your vote of Rogue Bakery for Dining category #10: Best French Fries. I think you'll all agree that Rogue Bakery does make the best french fries in Columbus. Sure, maybe you've never tasted them because you're busy eating cookies. Regardless, they are really really good. Write-in vote for Rogue Bakery under Dining #32: Best Local Treat or the more prestigious #10: Best French Fries. Voting ends at noon on March 1st, so you have a whole month to help Rogue Bakery win the Best French Fries category!