Guilty Pleasures? THAT TERM SHOULDN'T EXIST
[Seinfeld voice] What's the deal with guilty pleasures? [/Seinfeld voice]
Really, why must there be things that give us pleasure, but cause us guilt? Why do we feel this guilt? This sounds very philosophical, doesn't it? What's with all the questions in this blog post???
I don't know why we feel guilty, but I can probably narrow it down to two things: 1) people are douchebags and 2) people are douchebags. Why? Because they are the ones who tell us that the things we like aren't things we should like. Where do they get off saying that? I'm sure it has something to do with social acceptance and blah blah blah other stuff. It shouldn't matter to other people what we like or don't like! [Well, unless you don't like any of the Rogue Bakery cookies. Then we really need to have a talk.

]
But back to guilty pleasures…we have guilty pleasures when it comes to music, television shows, movies, etc. I also find a lot of people have food guilty pleasures. Or more accurately, foods that people like, that other people think is disgusting, or just wrong. Do you like McDonald's, but you have friends that look at you like you've killed millions of innocent kittens when you admit it? Yeah, we all do. Wait, do we…? I don't know. I hope I don't. Then again, I don't go around saying I like McDonald's. I do like it, though. "But those burgers are terrible!" Well, yeah, they are, if you compare them to really well-made burgers. But it's McDonald's. I don't view McDonald's cheeseburgers as the end-all-be-all cheeseburger. I don't even view a McDonald's cheeseburger as a hamburger with cheese. In my mind a McDonald's cheeseburger is, in itself, it's own food. Like Chicken McNuggets. That's not chicken. I can't compare that to any part of  an oven roasted chicken, or even compare it to chicken fingers. They're McNuggets. I'm not even sure what's in them. It could be chicken, it could be fillers. Who knows? They're just delicious. And I'm not just talking about McDonald's here. I also enjoy Taco Bell. See? There's another example of what I'm talking about. Taco Bell isn't Mexican food. It's just Taco Bell. Sure, you can get an authentic Mexican taco from one of the many taco trucks Columbus has to offer. But that taco is nothing like a Doritos Loco Taco, except that they are both called "tacos".
I bring up this guilty pleasure thing because the other night, I was eating something that probably no one has ever had before…well, except me and my sister. And I'm sure describing it to you will result in you making that 'crinkle your nose in disgust'-face. See, when we were little, my mom used to make us Chef Boyardee canned pasta: usually Beefaroni, but sometimes we'd have the ravioli. They were good, and I especially liked the way my mom prepared them. I didn't know what she did to them, but she made them extra tasty. When I got older, I figured out what the secret was: she would add a slice or two of American cheese to the pasta while heating it up. Then when she stirred it around, the cheese became incorporated with the tomato sauce, making it much creamier and tastier, without altering its appearance. She also used to add it to regular pasta sauce that she made, like if she made spaghetti. My sister and I have discussed this in great length, and always wondered how mom even thought of putting American cheese in canned pasta. Oh, sure, we asked our mom. Her response: "I don't know. Maybe I read it somewhere…? Maybe an American mother told me to do it…?" Hmmm. My sister and I have our own theory. My father and mother came to the US in 1969. My mom, while a good cook, didn't know much about any other cuisine besides Filipino food. My sister and I theorize that my mom saw people in the US serve Italian-style pasta dishes, and add Parmesan cheese to it. My mom probably did not know what Parmesan cheese was. [I'm sure parmesan cheese wasn't available in the Philippines. The only cheese Filipinos had that was readily available back then was this Kraft canned cheddar cheese. Which honestly, isn't that bad. Yeah, I know, it comes in a can. But it's a really nice blue can.] She knew she liked that Kraft cheese, and she probably discovered that Kraft American singles tasted somewhat similar to the blue-canned Kraft cheese. "Cheese with Italian pasta? Let's go with the Kraft singles!" And that's our theory. Of course, my mom will deny this, because she knows all about Italian food now, and would never admit that at one point, she may have thought Parmesan cheese and American cheese could be similar. But you know what? It doesn't really matter, because it's crazy delicious.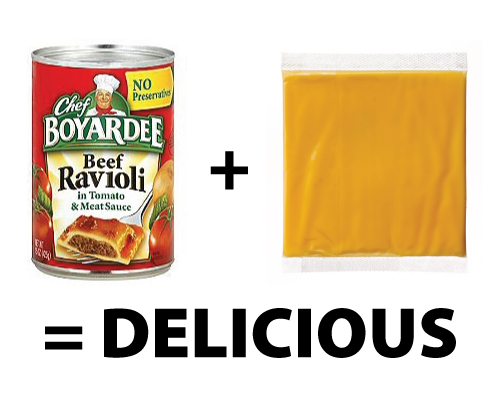 See? The picture proves it.
So, what food guilty pleasures do you have? I want to hear some good ones. If you say "eating non-organic or locally-sourced foods", I'm going to have to hit you.