The last Tester program ended a few months ago, and many good things came out of it, thanks to the participants' thoughts and opinions. Feedback from you guys is always welcome, even if it comes in the form of a rant that ends with "JUST MAKE REGULAR COOKIES, YOU OAF!" Don't worry, "regular" cookies will always be around.
But it's a new year, and a new year comes with new ideas, and that's where the first Tester of 2013 comes in.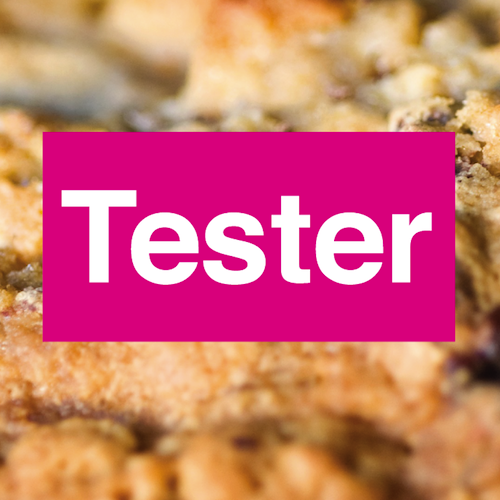 I have some ideas for some new products in the pipeline, and I kind of need your help. But there are some qualifications I'm looking for in the next Tester participants.
-Do you find that you sometimes/often eat baked goods (such as cookies) for breakfast?
-Do you sometimes eat pre-packaged bars as a lunch-on-the-go, because you don't have time or maybe because you're too busy during the day to stop for a proper meal?
-Are you okay with sweet & savory combinations in foods?
-Do you carry energy/granola bars with you, just in case you're stuck somewhere, and you might need to eat something better than the lint-coated Jolly Rancher that's stuck at the bottom of your bag?
If you answered an emphatic 'YES!' to any of the questions above, you might be the perfect fit for this Tester. Even if you answered 'Maybe…' to any of the questions above, you still might be a perfect fit. Let me outline the specifics of this Tester.
Tester for January 2013
-Price: $20
-You will receive a promotional code good for $5 in the Rogue Bakery online store upon signing up for the Tester program.
-There are only 15 spots available for this Tester.
–Local delivery only
-Each week for 4 weeks, you will receive three (3) cookies, for a program total of 12 cookies. Two of the cookies might be Test cookies, with one of them being a current Rogue Bakery cookie, or you might receive one Test cookie, and two current Rogue Bakery cookies. It could vary from week to week.
-The Test cookies you receive will be larger than cookies from previous Testers.
-You may be asked for feedback regarding the cookies that you received. Most likely, this will consist of questions/online survey sent to you via email.
-After the program is finished, and the product recipe and packaging are finalized, all Tester participants will receive two (2) of the final product.
Additionally, the Tester cookies are for those with no allergies, as the cookies may contain wheat, soy, or nuts. So if you have allergies to the items listed, this may not be the thing for you. Sorry. :/
tl;dr
-$20
-you get a $5 promo code for the online store
-15 Tester spots available
-3 cookies per week for 4 weeks
-cookies are bigger
-you'll get an email asking if you liked them
-you'll get 2 of the final product cookies when released
-you can't have allergies to wheat, soy, or nuts
So, if I do the math…
$20 – $5 = [12 cookies] + [2 final cookies] – [your time answering an email questionnaire] = SUPER AWESOME
Yep. That's the right answer, alright. OSU's Math 568 helps me in life yet again!
If you have any questions regarding this Tester, feel free to fill out the contact form, or you can tweet or Facebook. Wait, can 'Facebook' be used as a verb? *shrugs*
Thanks in advance for your participation and help!