Let's work our way backwards, shall we?
Rogue Bakery Wins Some Poll-thing!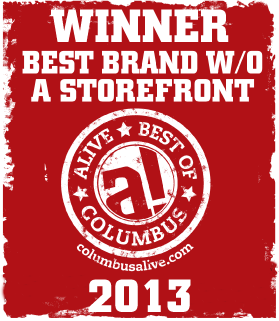 HOORAY!!! Rogue Bakery won Columbus Alive's Best of Columbus 2013 for the category "Best Brand Without A Storefront"! Thank you so much for your votes, because, hell, that's how you win, with votes…from people. I can't thank myself because I didn't vote for Rogue Bakery. I know, that sounds weird, doesn't it? But it just feels wrong when you vote for yourself in a poll. And voting for myself makes me feel like an attention whore. No one likes to feel like an attention whore. Or maybe you do. I don't know. But I don't judge. You can do whatever you want. But yeah, thanks for voting, because winning was a complete surprise.

Thank you thank you thank you!
Not just on Sundays…if you can drive/bus/bike/run/walk
Did you know You can get Rogue Bakery cookies in single packs at Shadowbox Live's Backstage Bistro in the Brewery District? Of course you do. Did you know that you can get the very special SBCC [Spicy Bacon Corn Cheese] cookie exclusively at Ace of Cups Bar? Yeah, you knew that too, because you're smart. But did you know there's a new supermarket downtown, aptly named The Hills Market Downtown at 95 North Grant Avenue? Maybe you did.
BUT did you know that you can get Rogue Bakery cookies at The Hills Market Downtown. Yes, yes you can. Just head over to the bakery section, and there you go: a nice selection of Rogue Bakery cookies. Oh, and did you know you can get the same selection of cookies at The Hills Market in Worthington? I know, that's crazy talk, but it's true! Let me paint a scenario for you: you order cookies for Sunday delivery, because you love cookies. But then it hits: the craving. It's only Wednesday, and you don't know if you can wait until then. So you head over to either of The Hills Markets, Backstage Bistro, or Ace of Cups, and grab some cookies. Now you're good for a few more days, until your Sunday cookie delivery arrives. That's how it can work!
Something new…
If you travel to either of The Hills Markets, you may notice that, among the CMCs, TLCs, DCCs, gfvCLs, you see something that you don't recognize.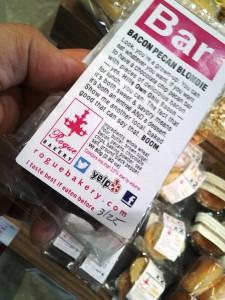 It's the first in a new line of Rogue Bakery bar cookies, named Bar.  Born from the hellfires of the Tester program, and exclusively baked for The Hills Market, the Bacon Pecan Blondie is a substantial bar, with rich browned butter, Hills' Own Ohio Bacon, pecans, and semi-sweet chocolate chips. Also, it's the first Rogue Bakery item that I endorse as a meal replacement…because that means a lot. I mean, It has protein, and nuts, and it's pretty filling. But if you have it just for lunch or dinner, don't tell your mom. Moms just don't understand how cookies can be meals. And don't try to reason with her. Just say, "I'M AN ADULT, MOM! YOU CAN'T TELL ME WHAT TO DO!" and then go slam your bedroom door.
The Bacon Pecan Blondie is the first Bar. There will be another cookie in the Bar line-up that will be coming soon to the online store. Keep your internet-eyes peeled…