I've been wanting to write about this place for a while, which means the pics you see are from January. Haha. It's all good though, because what you see is exactly what you get.
A few years ago, my sister flew in from Charlotte to Cleveland on Christmas Eve to celebrate the holidays with my mom and me. Being the family that we are, we had not done anything Christmas related. I don't know what it is, but it feels weird decorating my mom's house with Christmas stuff when it's just me doing it. I always think my sister should be there to help. Okay, fine. We're procrastinators. This is what we do. That being said, it was Christmas Eve, and we needed a tree. And we needed to go Christmas shopping. And we needed to go buy food to have for Christmas Day dinner. SO MUCH STUFF.
It turns out, everyone else does these things well in advance, so shopping for stuff was actually quite simple. We found a tree, we went food shopping, we found gifts, and when we were all done in the late afternoon, we needed food. I said, "Hey, there's this cheesesteak place that I've been hearing good things about…" With that, we drove to good ol' Kamm's Corners/Westpark, to Big Daddy's Cheesesteaks. I'm pretty familiar with the area. I took piano lessons from the age of seven to sixteen at a place close by. And at sixteen, I took my driving road test and got my driving license at Puritas just down the way. Remember, if you're passing a parked car on the street, and the driver is in the car, you have to signal AND give an audible warning when passing, by either honking your horn, or yelling out the window. I got a point taken off for not doing the audible. Stupid Puritas area driving test.
Where am I going with this? Oh, it's Christmas Eve afternoon, and we stop into Big Daddy's Cheesesteaks. However, it's Christmas Eve afternoon, and the place was empty, and the guy there was just about to close. We were ready to leave, to find somewhere else to go when he said, "You know what? Come on in. You still have time."
That great guy [in kindness and in stature…seriously, like a linebacker] who let us in and made a family of procrastinators some cheesesteaks was owner/chef Jason Noyes. I mean, he made us cheesesteaks when he was about to close ON CHRISTMAS EVE. Also, he let my mom use the non-public restroom. [Note: people who have kids that always have to use the restroom: when you get older, you're going to be the same way. What comes around, goes around. So don't complain about it.]
After our meal, I went back in my car, and gave him a box of cookies, as thanks. [Yes, during the holidays, I just have cookies sitting in my car. YOU NEVER KNOW WHEN YOU NEED THEM.] Since then, I've been going there every now and then, when I get a chance.
This place is just good.
I'm not going to get into an argument about authentic Philly cheesesteaks. Why? Because I've had authentic Philly cheesesteaks, in Philadelphia, and you know what? I wasn't impressed. They remind me of Mr. Hero. There, I said it. Philly cheesesteaks taste like Mr. Hero cheesesteaks. *sits here, waiting for the haters to hate* Oh, but don't get me wrong. I love Mr. Hero. Are Big Daddy's cheesesteaks like authentic Philly cheesesteaks, or even Mr. Hero? Nope. Are they better? Quite possibly, because you can get two things on your cheesesteak that, in my humble opinion, make everything better: a fried egg and gravy.
That's right, the Cleveland cheesesteak comes with a side of beef gravy. And you can add a fried egg to any sandwich. DONE. Big Daddy's wins the cheesesteak battle.
In addition to the Cleveland, they have other cheesesteaks [and a vegetarian option] that I really should  try, and I say that every time  I go. But I just can't get away from the Cleveland. It's so good. BECAUSE GRAVY.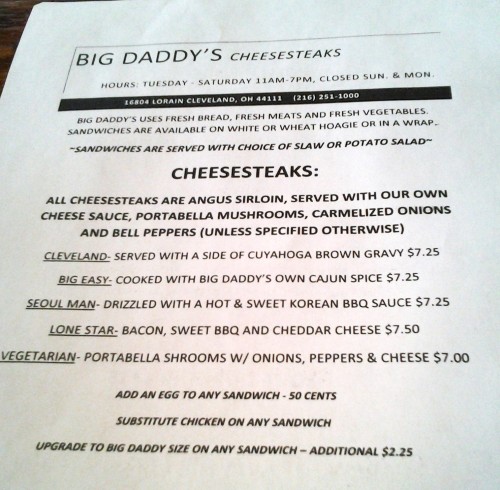 If you're really hungry, you can upsize your sandwich to "Big Daddy Size". I did that the first time I went. It's A LOT of steak. No, I'm not kidding. A LOT. So keep that in mind. Big Daddy's also makes typical diner homefries [read: excellent] AND AND AND you can get Super Deluxe Home Fries which top them with a fried egg, gravy, and cheese. I KNOW.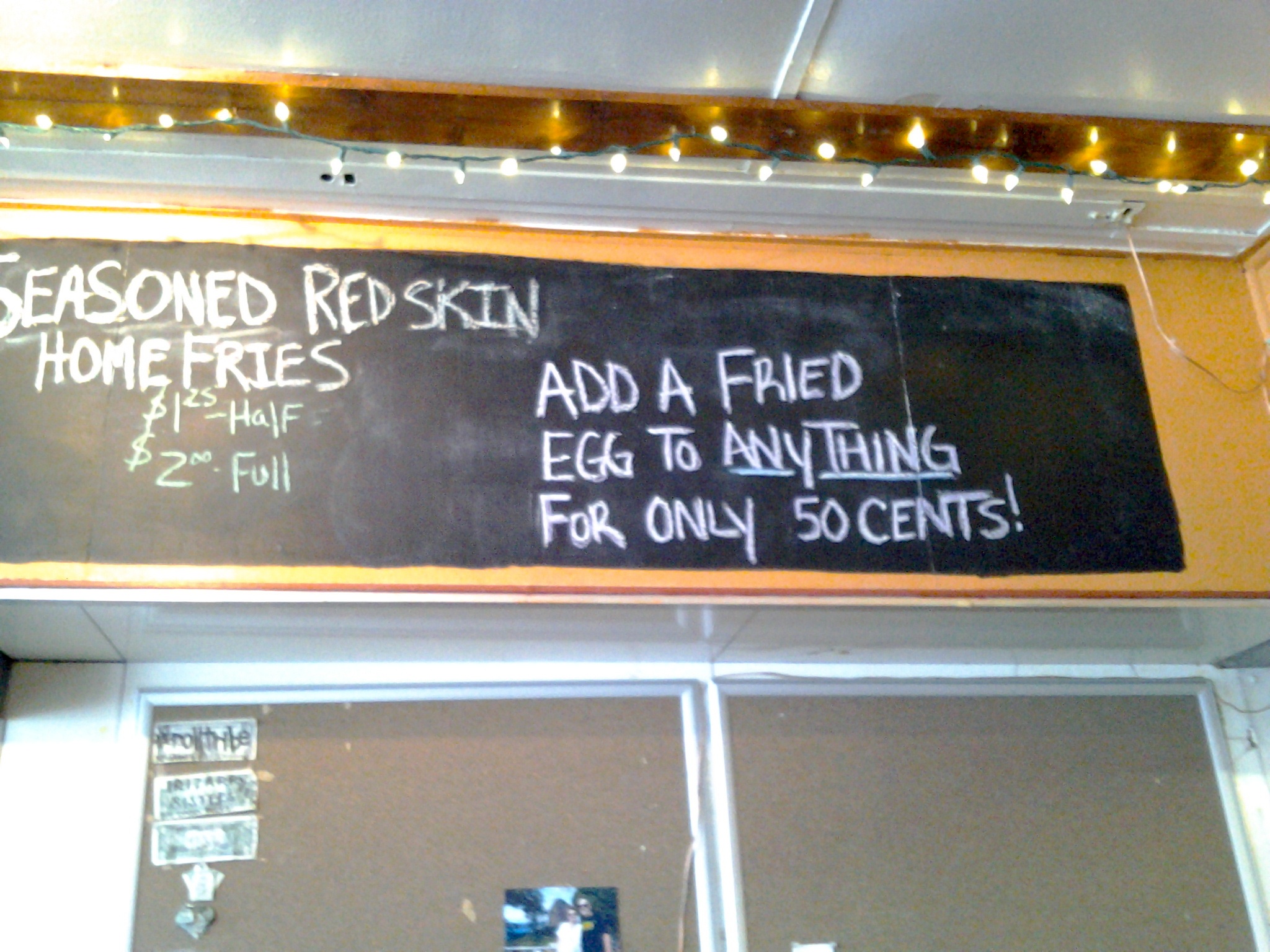 But that's not all they have that's awesome. They make a great redskin potato salad, and a variety of delicious slaws, your choice included with any sandwich. And for those who aren't in the mood for a cheesesteak, they have excellent pulled pork sandwiches.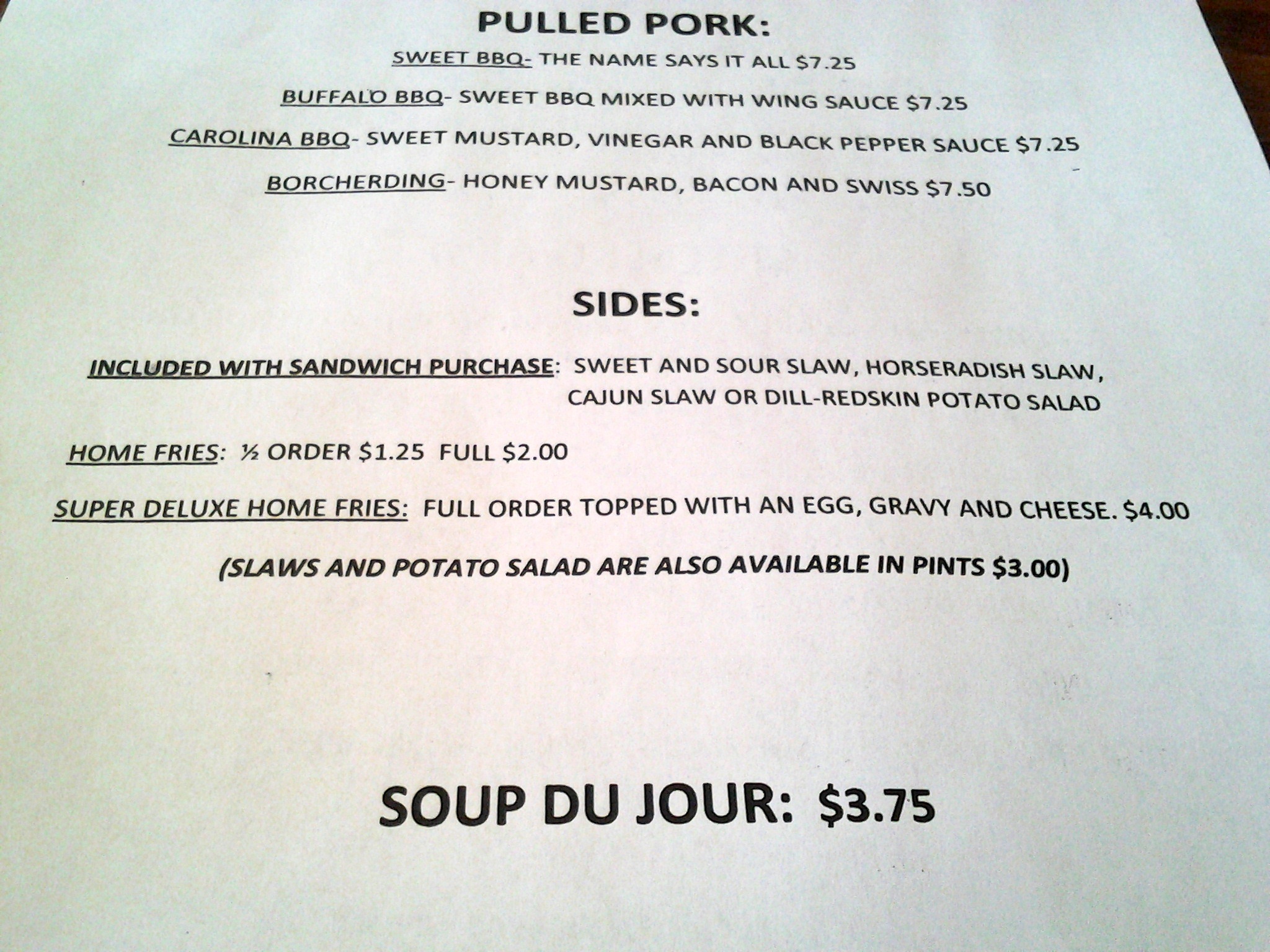 The last time I was there, my mom got a Sweet BBQ pulled pork sandwich, and the Soup Du Jour, which, that day, was Curry Chicken Noodle.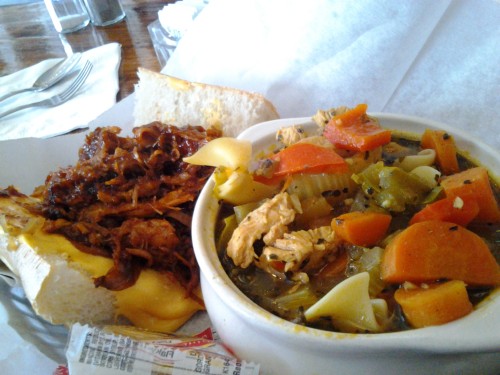 My mom, who is probably the most critical food eater around [and she will say it to your face if she doesn't like your food. I'm totally not joking.] said it was one of the best soups she has had. "You can tell this was made fresh, from scratch. So many big chunks of vegetables and chicken, and it's seasoned just right." While we were eating, a Cleveland Police officer came in, trying to decide what to get. My mom liked the soup so much, she raved about it to the officer, convincing him to get it.
Most days of the week, Big Daddy's lists specials of the day. This is a shot of the specials board for that week in January. Chicken Paprikash over Spaetzel Friday!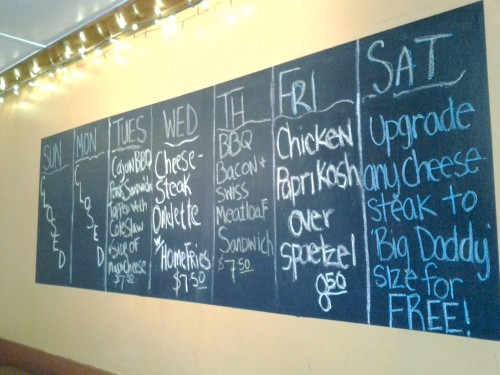 I just saw on Facebook that there's a new BBQ, Bacon & Swiss CHICKEN loaf Sandwich today. Now that's a change up from a typical meatloaf. Because it's chicken. Oh, and you can substitute chicken on any sandwich, if you wanted to do that. But come on, it's a cheeseSTEAK. Stick with the beef. That's what she said.
The place is small and unassuming, with only a counter, some stools, and a couple tables. But it has that old diner feel to it, a feeling that I can only compare to Nancy's Home Cooking in Clintonville, but a lot more intimate.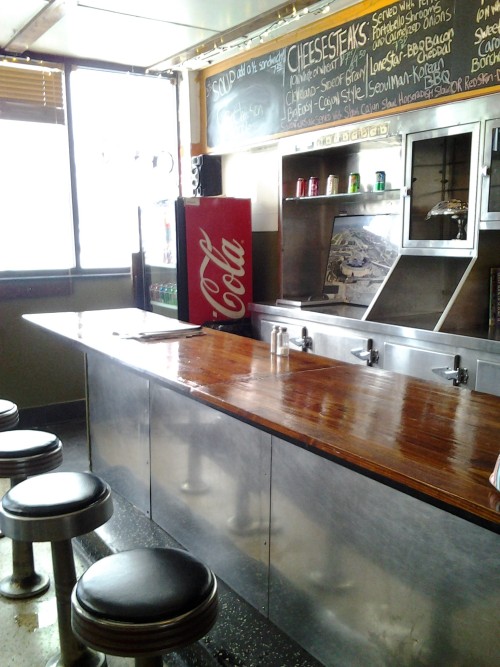 Regulars come in and out, store owners from down the plaza picking up a to-go order, police officers coming in for a quick lunch. And they are always greeted like old friends. Hell, the second time I went to Big Daddy's, which was months after that Christmas Eve visit, Jason said, "Hey, haven't seen you guys in a while! You make cookies, right? And there was another young lady with you last time…"
If you need an authentic Philly cheesesteak, but live in Ohio, just go to Mr. Hero. It's honestly a good enough facsimile. Yeah, haters gonna hate. Whatever. The truth hurts. HOWEVER, if you need an even tastier cheesesteak, with the option of having a fried egg and gravy on it, go to Big Daddy's Cheesesteaks in Cleveland.