…well, if you can actually read all of this in 3 minutes. I mean, you can take your time, no rush, no pressure. Just sound out the words if you have trouble.
Taco Bell Doritos Locos Taco
Restaurants nationwide
Price: 1.69 (Supreme with ground beef)
You've heard about it. You've gagged a little hearing about it. Well, I ate one. I'm not going to lie: I like Taco Bell. I mean, it's Taco Bell. It's not real Mexican food. It's Taco Bell. It's like saying "I really like good cheeseburgers. I also like McDonald's cheeseburgers." McDonald's cheeseburgers aren't really good, and they certainly don't taste like good cheeseburgers. But I like them. I know, you're reading this thinking "I'm never going to hit that 3 minute mark if he keeps up with this garbage…" I hear ya.
The Doritos Locos Taco is a regular Taco Bell taco with one difference: the taco shell is made up of a Dorito. Well, more precisely, they molded the Dorito "material" into a taco shell, and put on that special Dorito "dust" we all love, the stuff that stains/scents our hands for days. As you can see from this picture, it comes in a special holder, because the shell is more fragile than regular Taco Bell shells.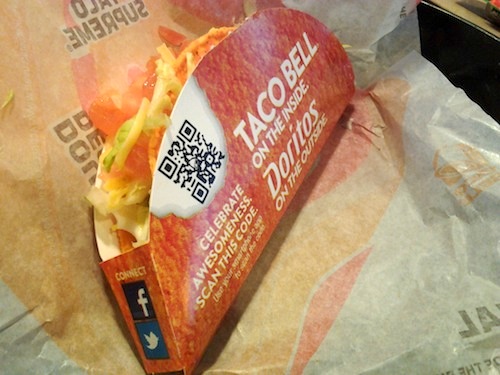 An aside: with my phone, I scanned that QR code on the taco sleeve. It brought me to a browser screen that said "Congratualtions! You unlocked some music!" But that was it. It didn't give me a link to download/stream music, or tell me to enter my email address to get a code, or anything. QR codes suck.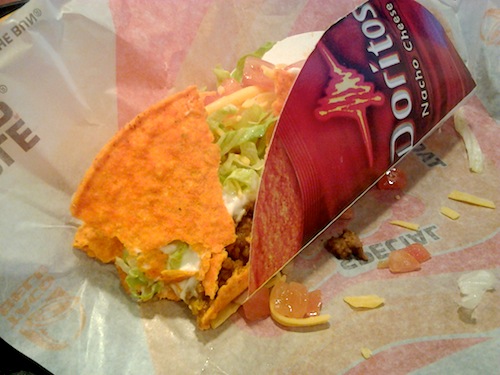 And as you can see in this shot, they weren't kidding regarding the fragile nature of this crazy taco shell. One bite made the thing crumble. I should've just continued eating it with a fork. Instead, I shoveled the remains in my mouth using that cardboard shell holder. Paints a really great picture in your mind of me eating, doesn't it? WELL I'M NOT GOING TO USE MY HANDS. That's barbaric.
Pros: I like Doritos. I like Taco Bell. Why not?
Cons: Shell is much too fragile. After I dump 3 sauce packets on it (which I always do), you can't even tell you're eating a Dorito-flavored taco shell.
Rating: Meh
Notes: Ever since that whole "Taco Bell meat is PEOPLE!!" debacle months ago, Taco Bell has really improved their ground meat. Like, this stuff tasted as if I took a load of the cheapest fresh ground meat I found in the store, and cooked it myself…which is a BIG IMPROVEMENT over the paste-like meat they used to have. I overheard a Taco Bell exec briefing employees in a location, saying that Taco Bell hired a "celebrity chef" to rework the Taco Bell ingredients and menu, and this meat is the first thing out of that reworking. Apparently the "celebrity chef" identity is hush hush. If anyone has any clues who it is, I'd love to hear them!

Saint Joan of Arc All-You-Can-Eat Lenten Fish Fry
10700 Liberty Road, Powell, Ohio
Price: $8.50 Adults, $4.00 Children – age 10 and under, $7.50 Senior  (65 & Up), $24.00 Family Special (2 Adults & 2 Children 10 & under), $8.50 All Carryouts.
I went to this fish fry mainly because a) I knew where it was. b) their website is bestfishfry.com —pretty damn ballsy of a URL, eh? c) it was all-you-can-eat. I'm originally from Cleveland, and I never went to a fish fry in Columbus, mainly because Cleveland fish frys are awesome. Why? Because of the Eastern European communities in Cleveland, a fish fry up there usually includes pierogies, and cabbage and noodles, and other stuff you just don't get at most places in Columbus. But I figured, why not go?
During Lent, St. Joan of Arc's fish fry is from 5:30 to 7:30 on Friday. I got to the door at 5:35. The line was out the door, and snaked all around inside. Crazy. People are serious about this fish. The line moved fast, however. One of the priests from the church came out, to greet everyone. He mentioned that they purchased over 1000 pounds of fish for that night, and they usually estimate a pound of fish per person. That's a lot of people. I paid my $8.50, was handed a plate, and off to the line of food giver-outers I went.
This is what I received.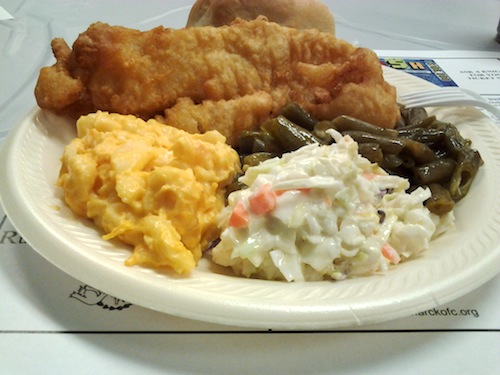 Battered fried fish, cole slaw, macaroni and cheese, green beans, a roll, and a soft drink. Oh, and french fries were also available, but I opted out during my first round. Not bad, considering that not only does one get free refills on soft drinks, one gets free refills on EVERYTHING. They also offered baked fish, which I got the second time around. Desserts are available separately, and they had a variety of cakes and pies, for a couple bucks.
Pros: All-you-can-eat for 8.50 (Perfect for the glutton in all of us.)  Side dishes were good, like upgraded cafeteria food. Fish was excellent. Kids who volunteered to tend to tables are quicker than any adult working in any sit down restaurant. EVER.
Cons: All-you-can-eat for 8.50 (If you're on a diet, this place is not for you.) Side dishes were like upgraded cafeteria food. If you go alone, or without a family, you're gonna sit with strangers who might not like your Mike Tyson-esque face tattoo. It's okay, just talk to those people about how good the fish is. Here's a good conversation starter: "I think I want to get another round of fish, but should I get fried, or baked?"
Rating: Not bad…not bad at all.
Notes: COME EARLY. If you want to be first in line, get there at 5pm at the latest. Wear loose pants, and bring a couple more bucks for dessert.

Panini Opa: Authentic Greek-Italian Street Food
4799 Bethel Road, Corner of Bethel Road and Sawmill Road, Columbus Ohio
Price: More expensive than you would think. Go to your regular Greek takeout place, and add $2-3 more for each item.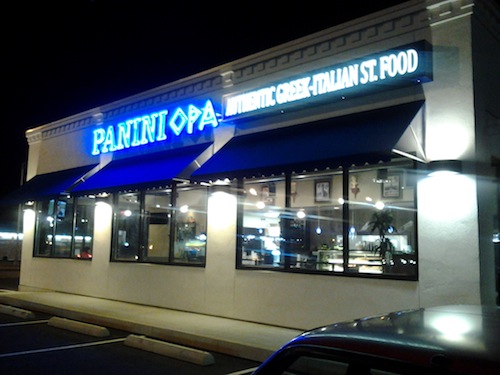 I've watched this building go up in the place of the old Rally's Drive-Thru, and wondered a) what it would be and b) when it would open. One night, as I was driving by and, coincidentally, hungry. I pulled in, not really knowing what "Authentic Greek-Italian Street Food" was. A gyro in a panini? Spanakopita, filled with angel hair pasta??????
Upon walking in, I went to look at their menu on display. Oh, wait…they don't have a menu on display. The counter is set up like a regular fast service restaurant: large glass dessert case, a register where someone takes your order. But there is no menu on display. A woman behind the counter handed me a large, sit-down restaurant type menu, and I stood there awkwardly unfolding this trifold menu, trying to figure out if there really was spanakopita with angel hair pasta filling.
The menu consists of Greek food AND Italian-esque food, not a combination of the two. I get it. They offered paninis, and pita sandwiches. They also had some Greek dishes served over rice or pasta. They even had saganaki, the flaming cheese appetizer. But…this wasn't a sit down restaurant…or was it? Standing awkwardly at the counter while staring at the obvious sit-down menu, and being disappointed at not being able to get a phyllo pastry filled with angel hair pasta, I decided to get the Avgolemono Soup (I can't pronounce it correctly either, let's go with Chicken Lemon Soup), a NORMAL spanakopita, and this spicy lamb dish over rice. I ordered, sat down, and watched Billy The Exterminator on one of the LCD TVs that was mounted in the corners. He was trying to get a possum out of a Halloween haunted house. I know, perfect dinner TV.
I wasn't really sure if they were going to bring out my food, or if I had to go up and get it. I found out it was the later when my soup was sitting on the counter.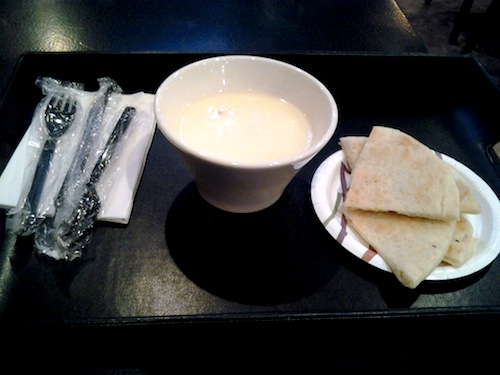 Weird aside: they put the food on these really nice leather-covered trays. I don't know why. They seem like  decorative trays you would buy at Target to put on your coffee table, to hold decorative bejeweled plastic apples. It felt really strange carrying this tray to my table.
The soup was…okay. It tasted fine, but I'm sure it would've been better if the soup was actually hot…or really hot. The bowl the soup was in was a bit cool to the touch, and the soup was lukewarm, if that. I suspect they don't have a giant pot of soup rapidly boiling all day long, and they probably just heated this in the microwave, straight from the fridge. That sucks. I did get a lot of pita bread to go with it. That was good. It was the soft, more bready pita bread, not the really chewy kind, in case you were wondering.
When my entree was ready (yes, placed on another leather-clad tray), it looked good.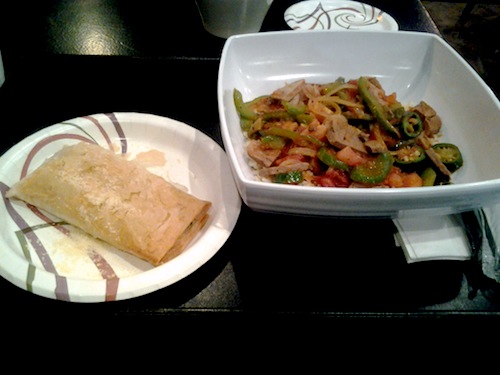 The spanakopita (on a paper plate?) was excellent, almost perfect. The tasty filling was just the right amount, and there wasn't too much phyllo.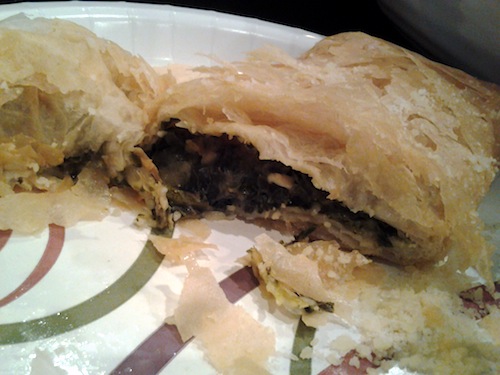 My main entree, the spicy lamb on rice (I had the choice of getting it on pasta. See? ITALIAN.) looked delicious. The lamb pieces weren't big, and were kind of thin…thin, flat rectangular pieces. And quite a few of them were overcooked.
As you can see from the picture, there were a lot of peppers in this spicy lamb dish. The strange thing was, this dish wasn't spicy at all. Not at all. You can see from the photo that there clearly are slices of peppers, seeds and all, in this dish. That pepper was not spicy. Maybe they bought the wrong peppers? Maybe they thought they were jalapeños, but were just strangely-shaped green peppers? Who knows? I just know this spicy lamb was a lie. A LIE TO MY TASTE BUDS. Ha.
When I awkwardly carried my two leather-bound trays to throw away my trash, I noticed the garbage cans had "GRACIAS" printed on them. *inquisitive head tilt to the right*
Pros: Leather-bound serving trays. Billy The Exterminator was on the TV. Soda water available on the fountain drink dispenser.
Cons: Leather-bound serving trays. Billy The Exterminator was on the TV. Confusing layout and no menu on display leads people to believe this is a sit-down restaurant. Soup might just be heated in the microwave. Plastic flatware while eating from ceramic dishes…with paper plates thrown in for some items. The only thing "Italian" about the place was paninis and being able to get pasta instead of rice.
Rating: Double-minus Meh. I kinda wish Rally's was still there. I could've had a Big Buford, and not pay $13 for it.
Notes: Avoid the confusion and walk right up the counter and grab a trifold menu. And then sit down, because it's super awkward trying to read the menu while standing in front of a counter.
BONUS REVIEW!
I went back to that Hawaiian BBQ place on West Fifth Avenue in Grandview. I got the Spam Musubi and the Loco Moco…again. It still sucked. Nothing has changed. Don't go to this place. Wait, I take that back. You can go there if a) you thought that it was still Panda Express, in that case, feel free to order anything from their Americanized Chinese food menu. You won't be disappointed. b) You really need some Spam Musubi, and you don't care that they barely fry it. Because I think this is the only place you'll find it.