[UPDATED 6:15PM 15 May 2012]
Ever go to Earth Fare? It's "The Healthy Supermarket". Hey, it says so on the sign. I'm not going to argue.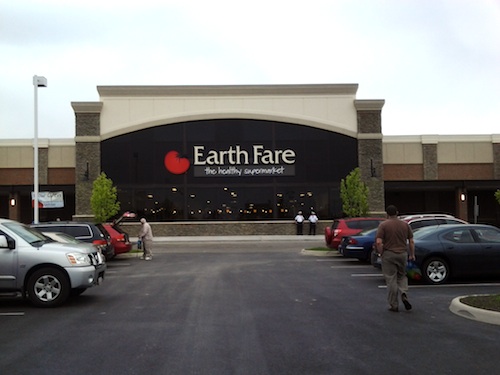 The Columbus location opened a few weeks ago, and I went to it. I know, exciting. "Wow, you went to a Whole Foods knockoff. Way to go." Yeah, that was pretty much my experience, too. Not that I don't like Earth Fare. No, it's a great store. Sort of like a 3/4ths or 1/2 scale Dublin Whole Foods. Similar layout, similar products, similar prices, just smaller. So yeah, it's a good addition to the area if you're into the Whole Foods thing, but live in the Polaris/Lewis Center area and don't want to drive to Dublin or to Lane Avenue.
My sister lives in Charlotte, NC, and they currently do not have a Whole Foods (one is being built as we speak), so Earth Fare is where she goes. She always told me about this dinner night thing they have on Tuesdays, but she was never able to go. She didn't really know what they served, or how it worked, but since she liked the prepared foods at Earth Fare, the dinner probably wasn't so bad.
The other week, on a whim, I decided to go to the Tuesday evening "Good Olde Days" dinner, which takes place from 4:30 to 7:30pm. Read the rest of this entry »